The great parade of bibliographic data quality control tools
The "Cataloguing Correspondent" study day offered online on 3 June 2021 was devoted to quality control actions for bibliographic data. 
Juggling with the tools, handling the data, passing the ball back and forth, looking at the result with pleasure and, in the end, noticing that it was rather fun...Abes invites each Cataloguing Correspondent to a convivial moment of sharing experiences, to (re)discover the tools and their tricks: practical exercises and advice! 
Objectives of the Study Day
present the quality controltools made available by theAbes
toencourage the use of these tools, through concrete examples presented by the Cataloguing Correspondents
share experiences. 
Consult the " Questions / Answers" file
Program
10.00-10.20 am

Part 1
Introduction to the day


Laure Jestaz, Abes
10.20-10.30 a.m.
Part 2
I avoid the proliferation of duplicates

Aurélie Faivre, Abes
10:30-10:40 am

Part 3:
I play with data quality 

All participants
10.40-11.15 am

Part 4:
I carefully review the notices

Laure Jestaz, Abes
11:15-12:00

Part 5:
I set up a quality action plan

Emmanuelle Riou-Genty, Bibliothèque Diderot de Lyon
François Lagarde, Direction de la Documentation des Universités de Bordeaux
 
14:00 - 14:20

Part 6:
I control the records produced by my cataloguers with WinIBW 

Laurent Piquemal, Abes
14:20-14:40

Part 7:
I use a webservice to check specific areas

Thomas Fresneau, Abes
14:40-15:10

Part 8:
I check the presence of links: AlgoLinks

Emmanuelle David, SCD of the University of Rennes 1
15:20-15:40

Part 9:
I control the "Person" access points: Paprika

Nathalie Savarit, SCD Aix-Marseille University
Aline Le Provost, Abes
15:40-15:55

Part 10:
I handle PPNs

Aurélie Faivre, Abes
15:55-16:05

Part 11:
I know the reference documents

Raphaëlle Povéda, Abes
16:05-16:30


Part 12:
Conclusions of the Day

Laure Jestaz, Abes,


Duration : 00:13:33
Laure Jestaz, Abes
Duration : 00:06:19
Aurélie Faivre, Abes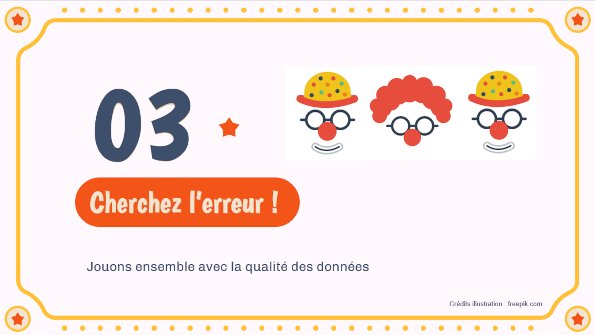 What improvements are needed to these notices? - Laurent Piquemal, Abes
Duration : 00:26:13
Laure Jestaz, Abes
Duration: 00:28:20
Emmanuelle Riou-Genty, Bibliothèque Diderot de Lyon & François Lagarde, Service de Coopération Documentaire des universités de Bordeaux
Duration : 00:12:53
Aurélie Faivre and Laurent Piquemal, Abes
Duration : 00:08:29
Thomas Fresneau, Abes
Duration : 00:17:51
Emmanuelle David, SCD of the University of Rennes 1
Duration: 00:16:46
Nathalie Savarit, SCD Aix-Marseille Université, Aline Le Provost, Abes
Duration : 00:15:54
Aurélie Faivre, Abes
Duration : 00:08:00
Raphaëlle Povéda, Abes
Duration : 00:08:20
Laure Jestaz, Abes